Fogatti 30 Inches RV Electric Fireplace
Free Shipping, 3-5 Days FedEX / UPS Delivery from US Local Warehouse
30-Day Free Return & Replacement
30-Day Free Return & Refund
12-Month Warranty
Introducing the Fogatti 30 Inches RV Electric Fireplace




Experience the perfect blend of aesthetics and warmth with the modern Fogatti 30 Inches RV Electric Fireplace. Effortlessly activate this versatile heater either through the user-friendly touch screen or the convenient remote control. With 14 flame and LED colors to choose from, along with 5 brightness levels, including automatic mode, you have complete control over the ambiance of your living space. 

Customize the temperature to match your preferences, ranging from 60°F to 97°F. The thermostat feature even memorizes your desired settings for added convenience. Enhance the authenticity of your fireplace experience by adding simulated fire logs and colorful crystals that will impress anyone with their realism.

Ideal for RVs, this fireplace has been designed to withstand the vibrations of travel.

With dimensions of 4.9"D x 30" W x 19"H, its sleek and compact design easily fits into any recreational vehicle. Make use of both recessed and wall-mounted installation options to suit your needs.

When it comes to safety, the Fogatti RV Electric Fireplace has you covered.

It has been ETL certificate approved and incorporates overheating protection. This feature automatically turns off the fireplace when objects are too close or when it exceeds safe heat levels, ensuring your safety at all times. Additionally, this electric heater maintains the natural humidity in the air without over-drying the room, providing you with not just comfort, but also care for your well-being.

Maintenance is a breeze with the Fogatti RV Electric Fireplace.

With recessed dimensions of 27.6" W x 19" H x 6" D, you can easily install it in an existing fireplace opening. The fireplace comes with a wall-mounted bracket, although it is not required if you choose to install it recessed. Not only does it stay cool to the touch on the sides and back, but it is also ventless, eliminating any hassle. For those moments when you desire the calming ambiance of the flickering flames without the need for heating, simply use the flame effect on its own.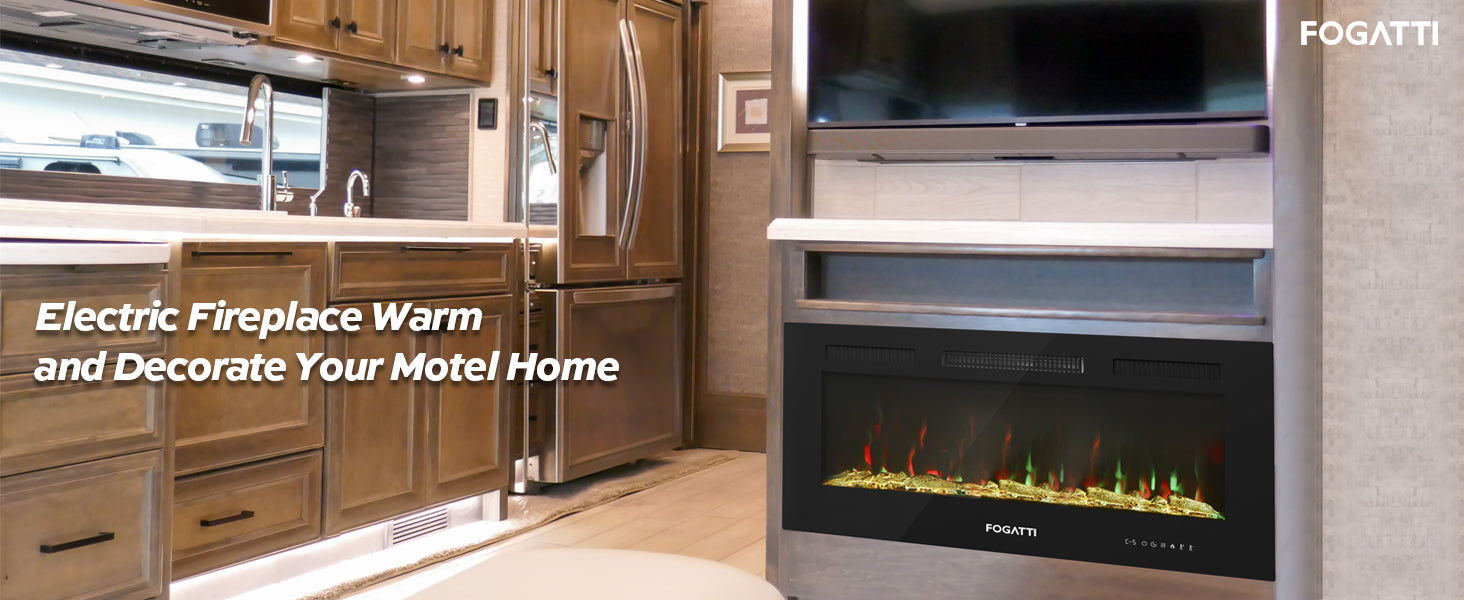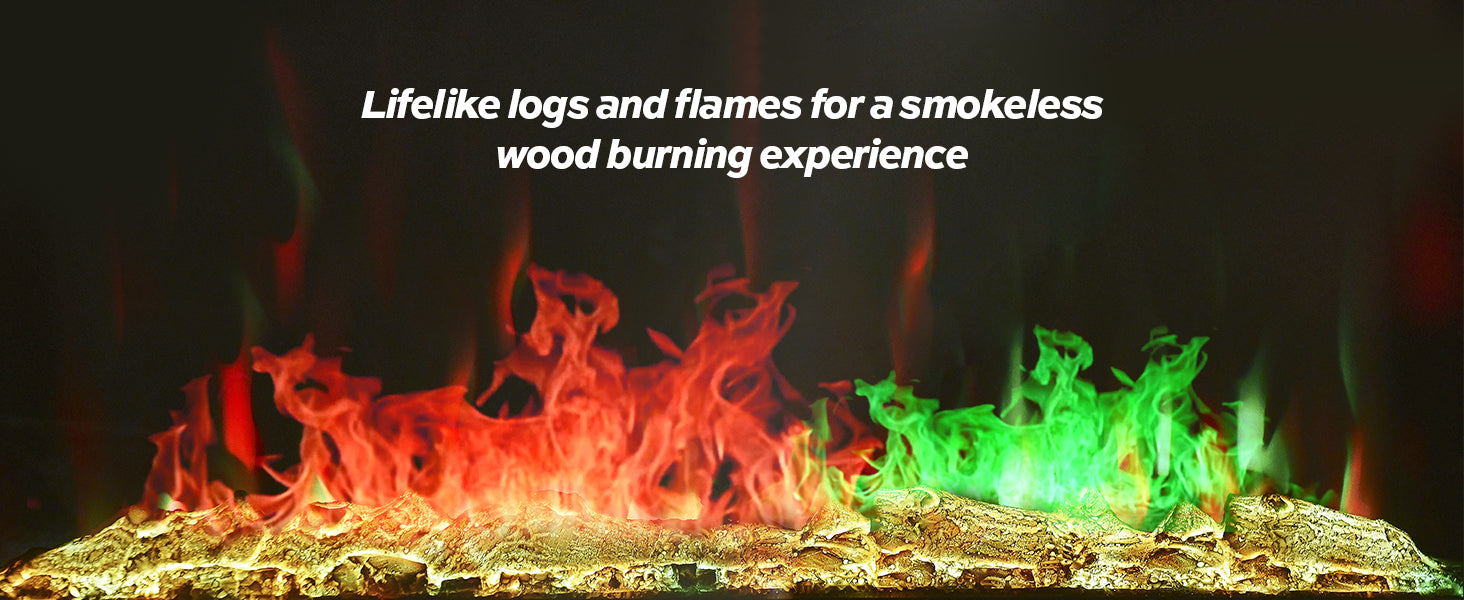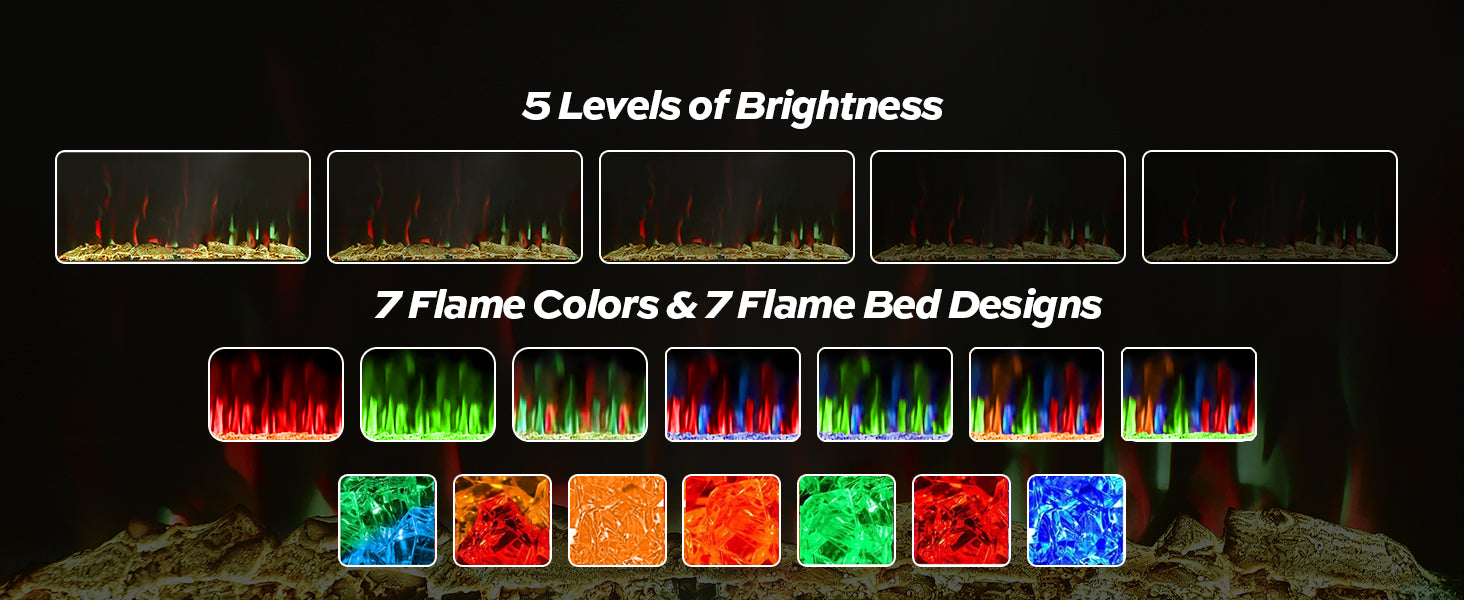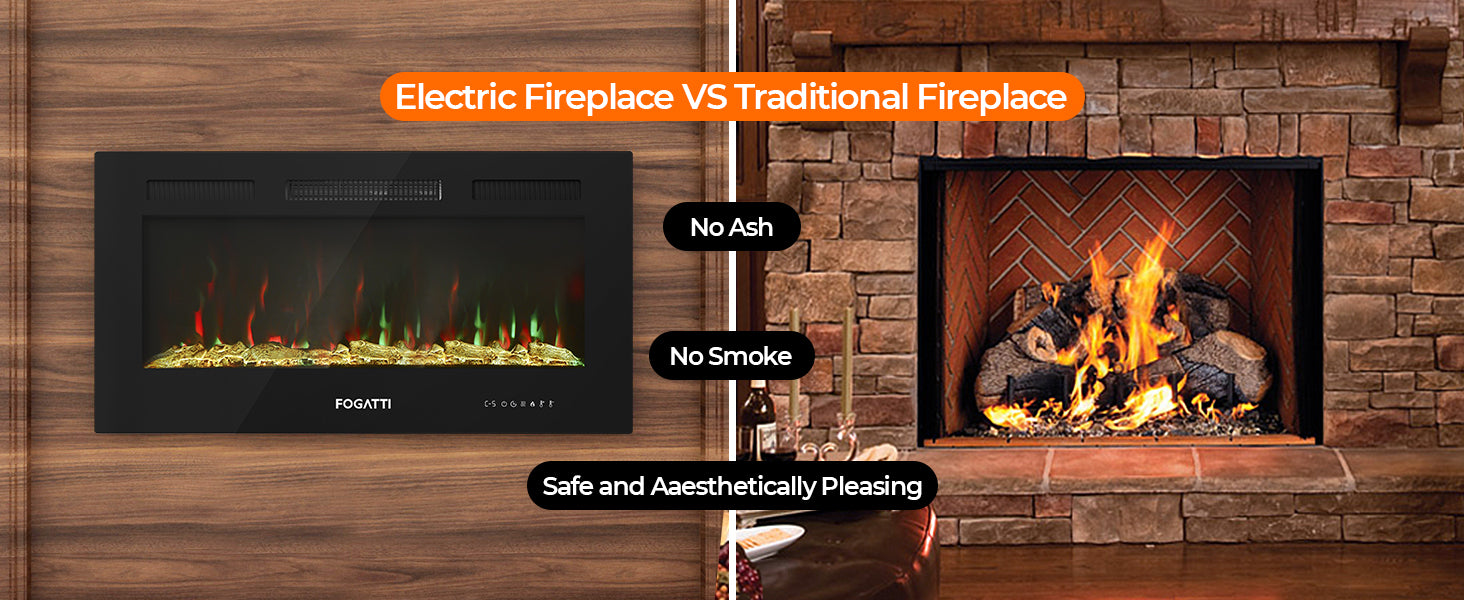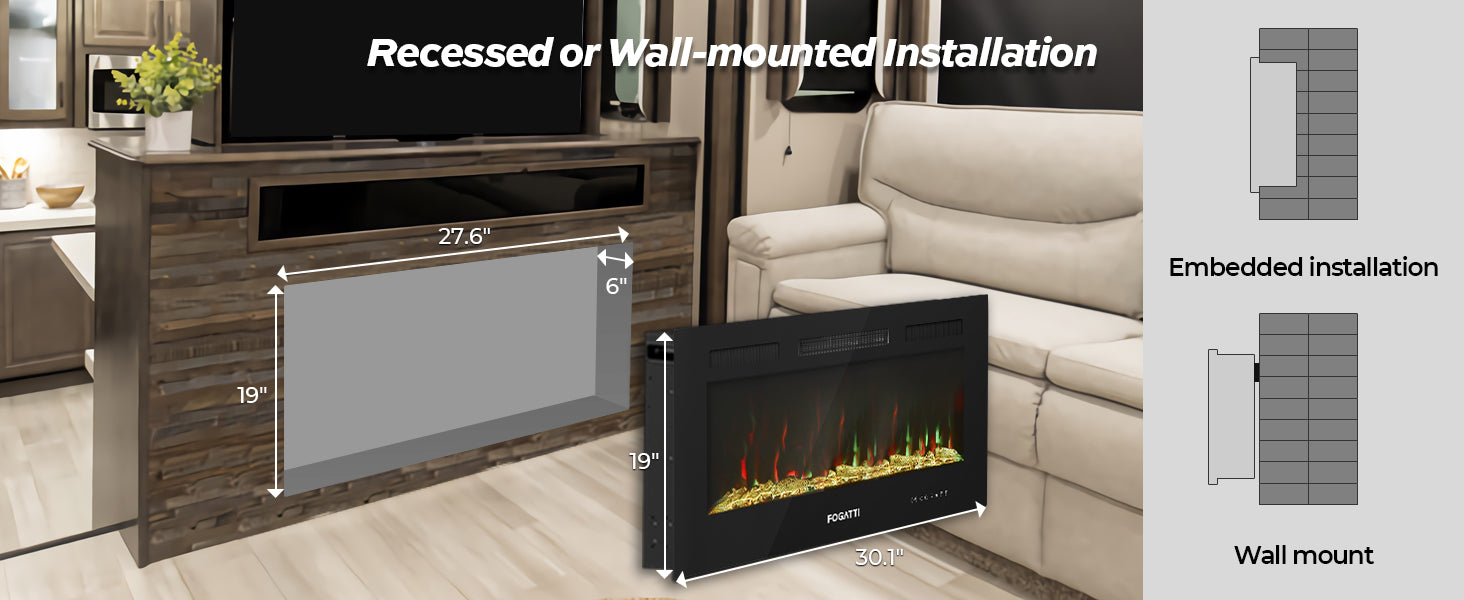 Product Name
Fogatti Electric Fireplace 30 inch
Fogatti Electric Fireplace 36 inch
Top Light Colors
7 Flame Colors & 7 Flame Bed Designs
7 Flame Colors & 7 Flame Bed Designs
How long will it take to get my orders?

We will arrange shipment within 24 hours,package usually arrive within 7 days.And the Delivery details will be provided in your confirmation email.
You can contact us through our contact page! We will be happy to assist you.
You may also like
Save 13%
Save 7%
On sale
Save 11%