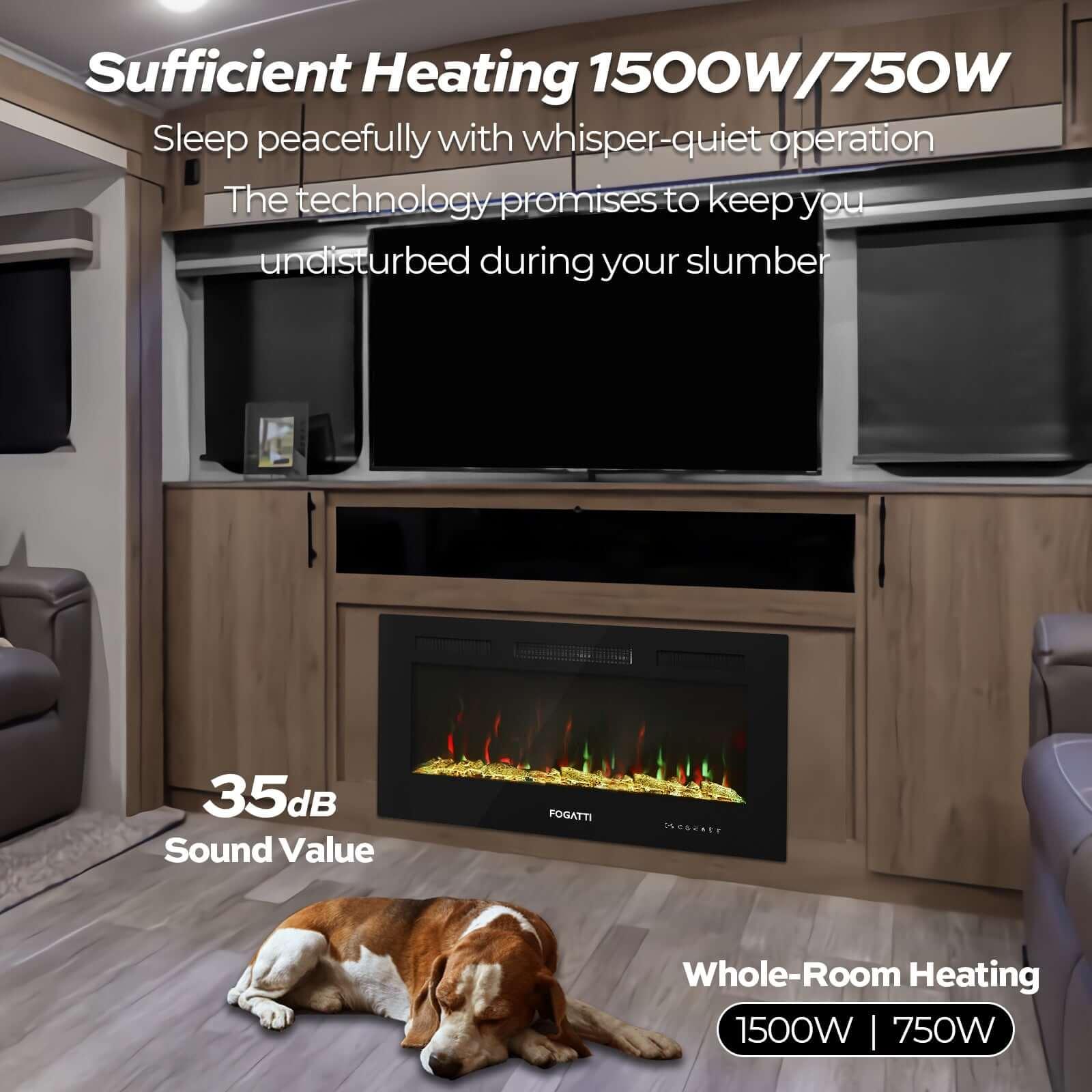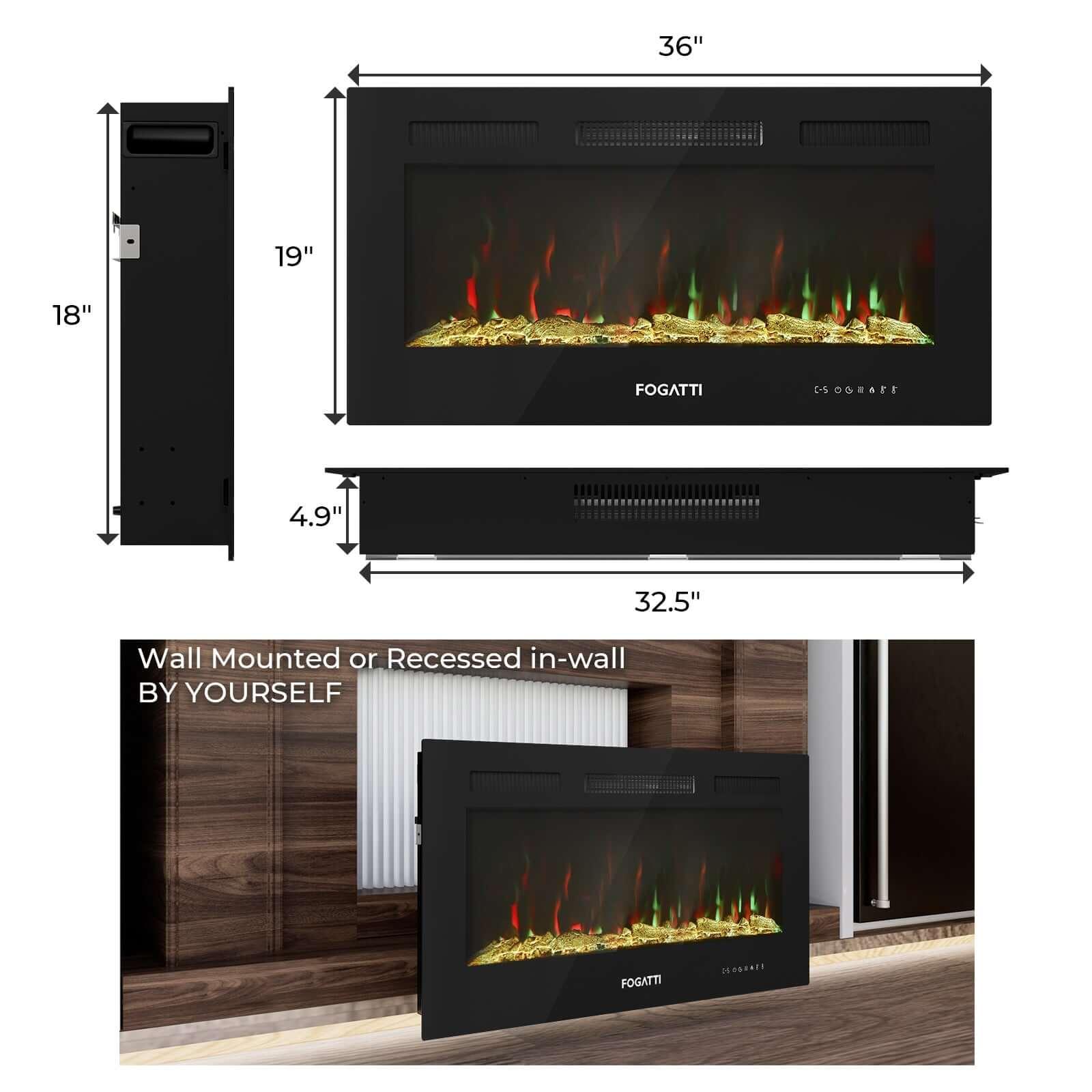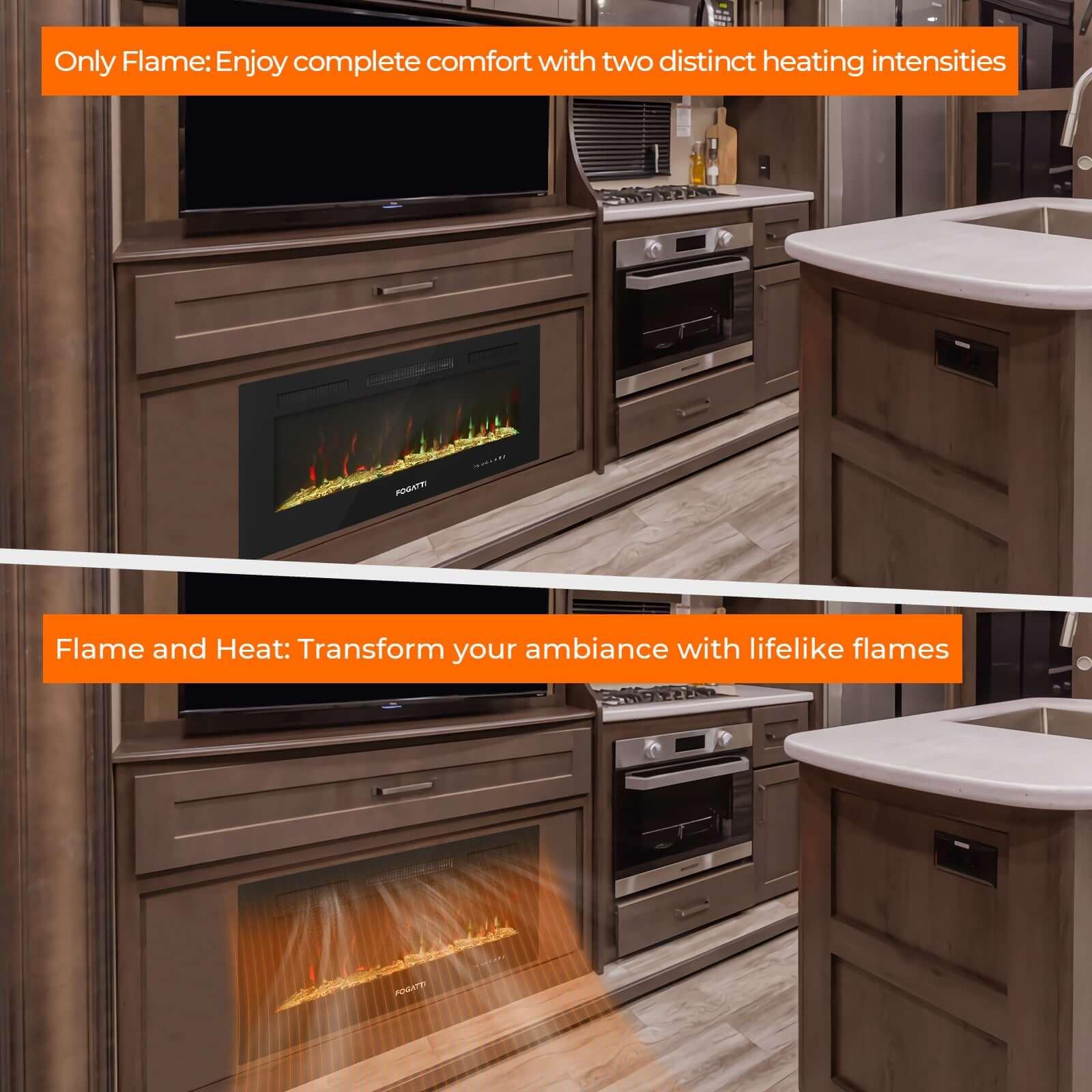 Fogatti 36 Inches RV Electric Fireplace
Free Shipping, 3-5 Days FedEX / UPS Delivery from US Local Warehouse
30-Day Free Return & Replacement
30-Day Free Return & Refund
12-Month Warranty
The Fogatti 36 Inches RV Electric Fireplace

This modern electric heater combines convenience and style, offering a user-friendly touch screen interface and a handy remote control for effortless operation. With 14 flame and LED colors to choose from, you can create the perfect ambiance for any occasion. Additionally, the fireplace features 5 brightness levels, including an automatic mode that adjusts the settings for your convenience.

Complete temperature customization is at your fingertips with the thermostat feature, allowing you to set the desired temperature between 60°F and 97°F. The fireplace even memorizes your preferences, ensuring consistent comfort every time. To enhance the cozy atmosphere further, you have the option of adding simulated fire logs and colorful crystals, adding to the realism of your new fireplace.

Designed with RVs in mind, this electric fireplace

has dimensions of 

4.9"D x 36"W x 19"H, making it suitable for compact spaces.

The slim profile, with a thickness of only 4.9 inches, allows for recessed and wall-mounted installations, ensuring that the fireplace can withstand the vibrations experienced during RV travel.

Safety and comfort are of utmost importance, which is why the Fogatti RV Electric Fireplace has earned an ETL certificate approval.

The built-in overheating protection automatically shuts off the fireplace if objects are too close or if the temperature becomes too hot, ensuring your safety at all times. Additionally, this heater helps maintain the natural humidity in the air, preventing the room from becoming excessively dry.

Maintaining the Fogatti electric fireplace is a breeze, thanks to its user-friendly features.

With dimensions of 33.5"W x 19"H x 6"D, it can be effortlessly installed in any existing fireplace opening, instantly enhancing the elegance of your living space. The fireplace is equipped with a wall-mounted bracket, although you have the option to recess it if preferred. Not only does it remain cool to the touch on the sides and back, but it is also ventless, ensuring a hassle-free and convenient experience. Moreover, you have the flexibility to enjoy the flame effect alone when you desire a cozy ambiance without the need for heat.

Indulge in the comfort and luxury of the Fogatti 36 Inches RV Electric Fireplace, and enjoy the convenience, safety, and remarkable realism it brings to your RV or any living space.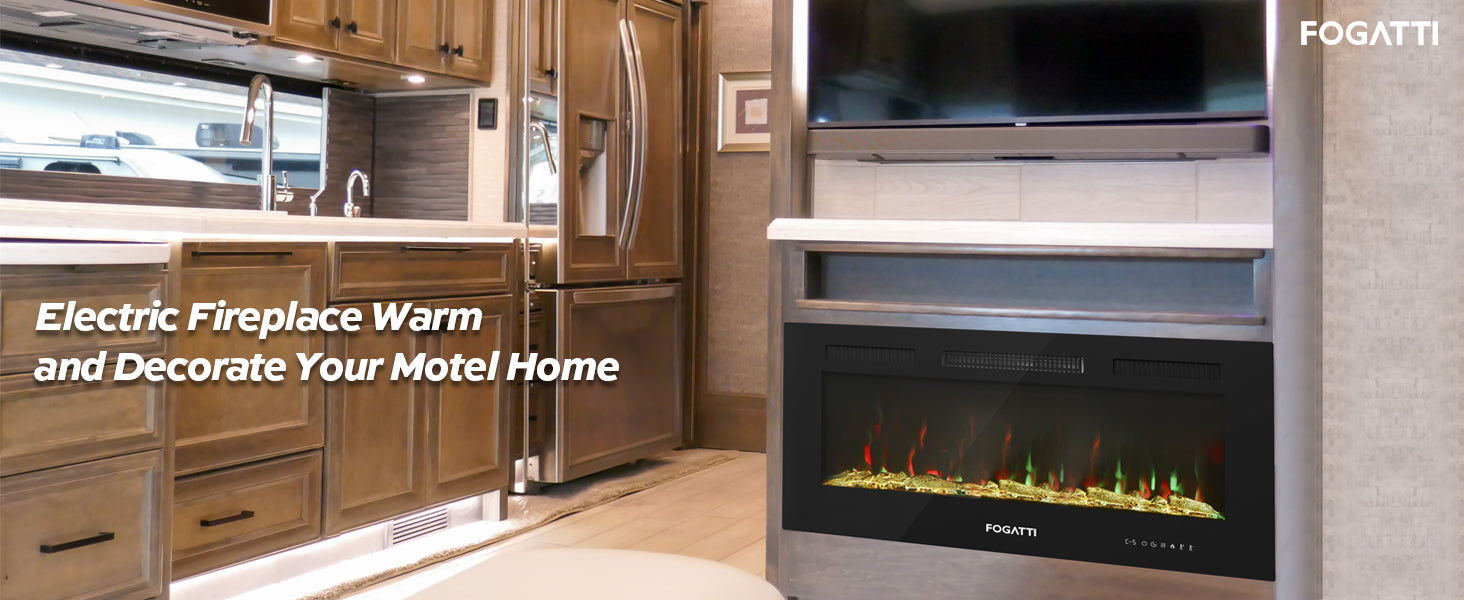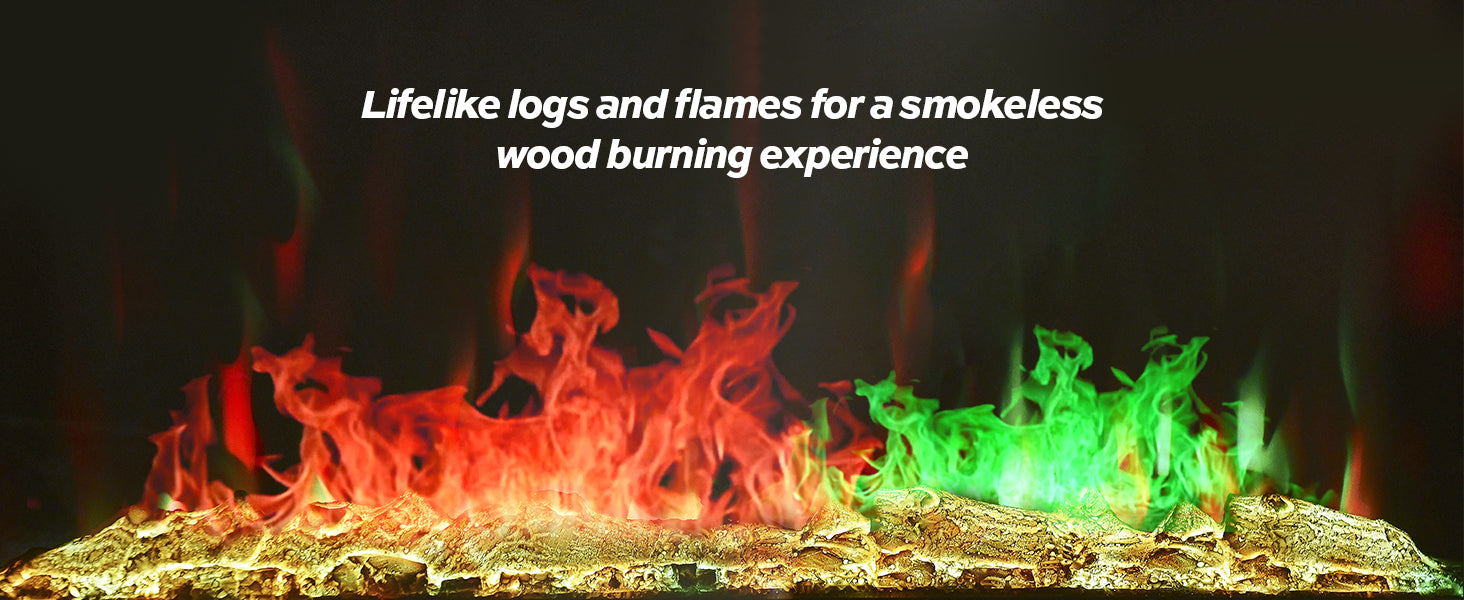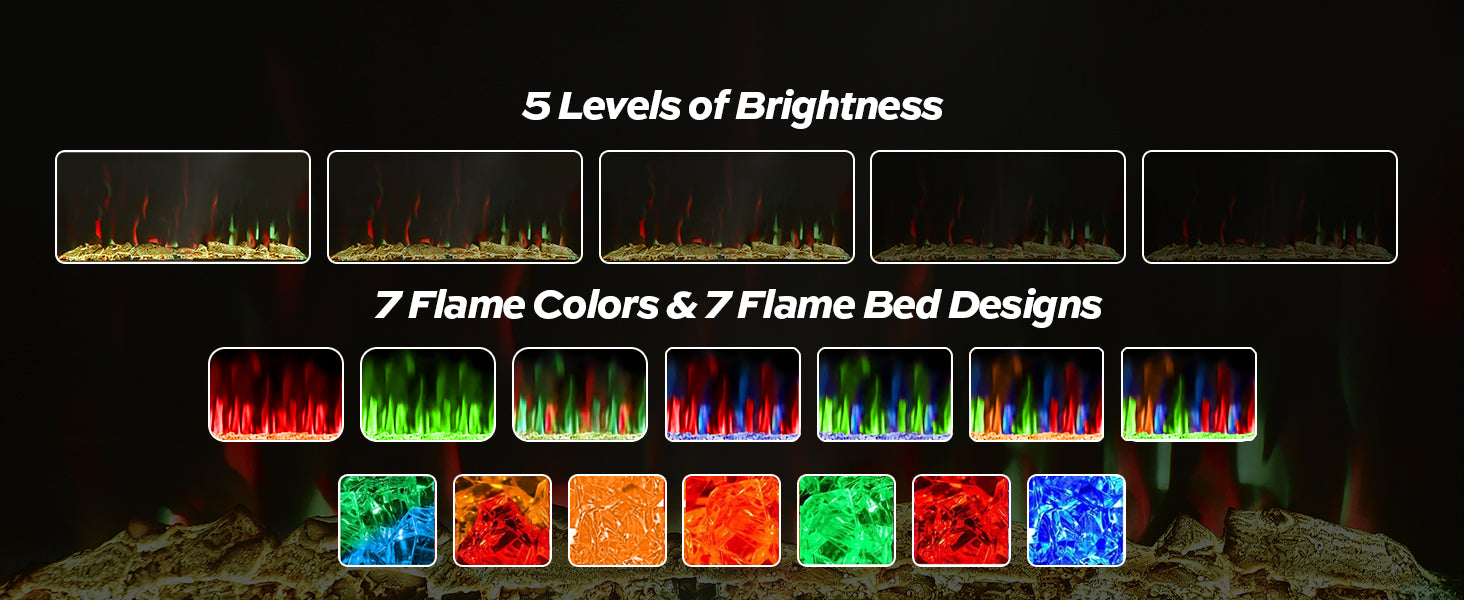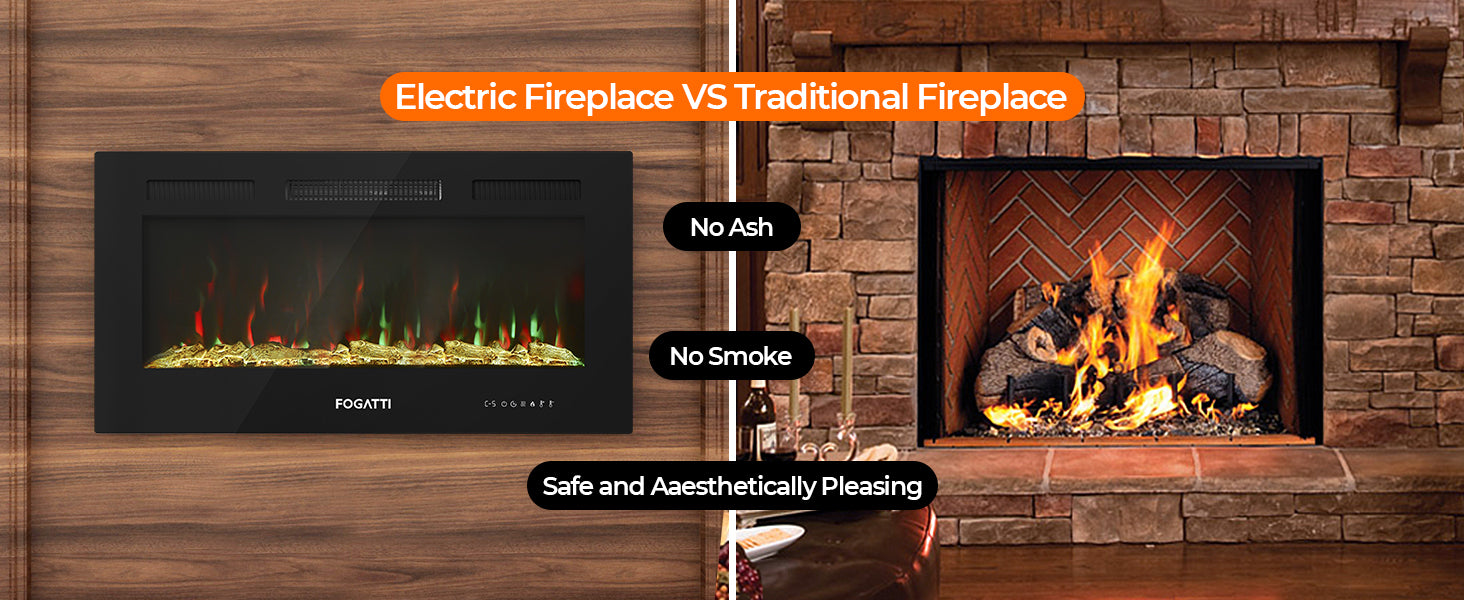 Product Name
Fogatti Electric Fireplace 30 inch
Fogatti Electric Fireplace 36 inch
Top Light Colors
7 Flame Colors & 7 Flame Bed Designs
7 Flame Colors & 7 Flame Bed Designs
You can contact us through our contact page! We will be happy to assist you.
You may also like
Save 15%
On sale
Save 7%
Save 11%