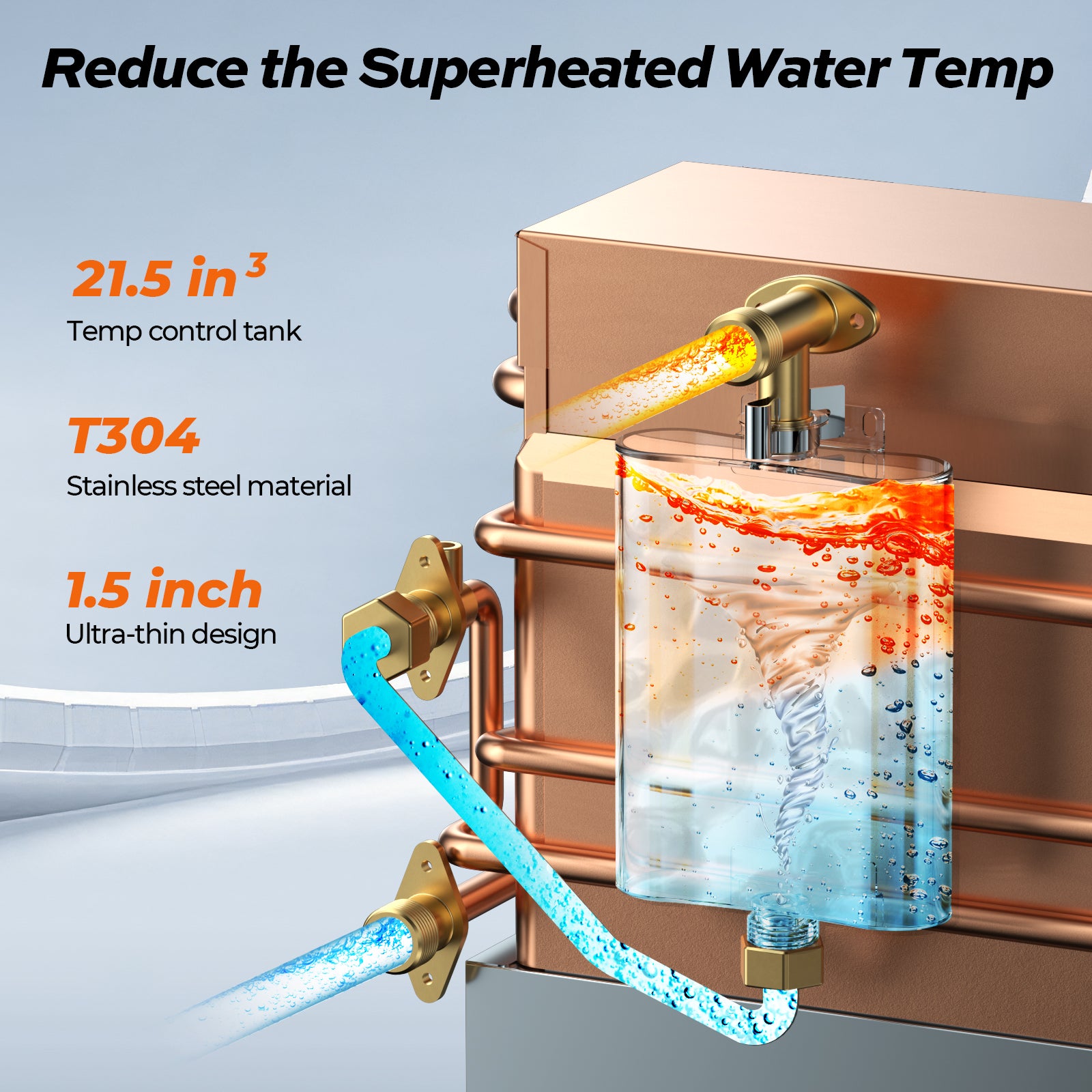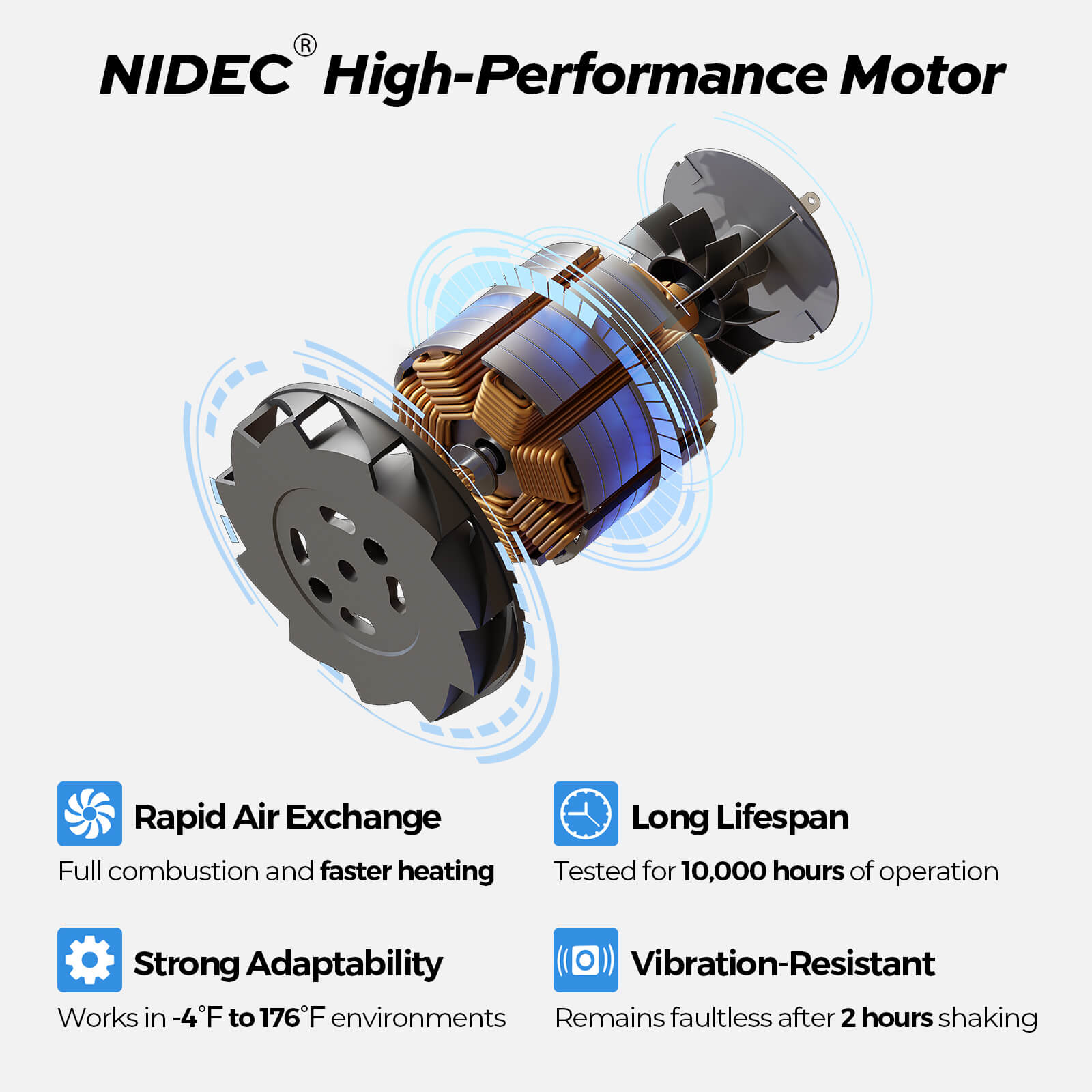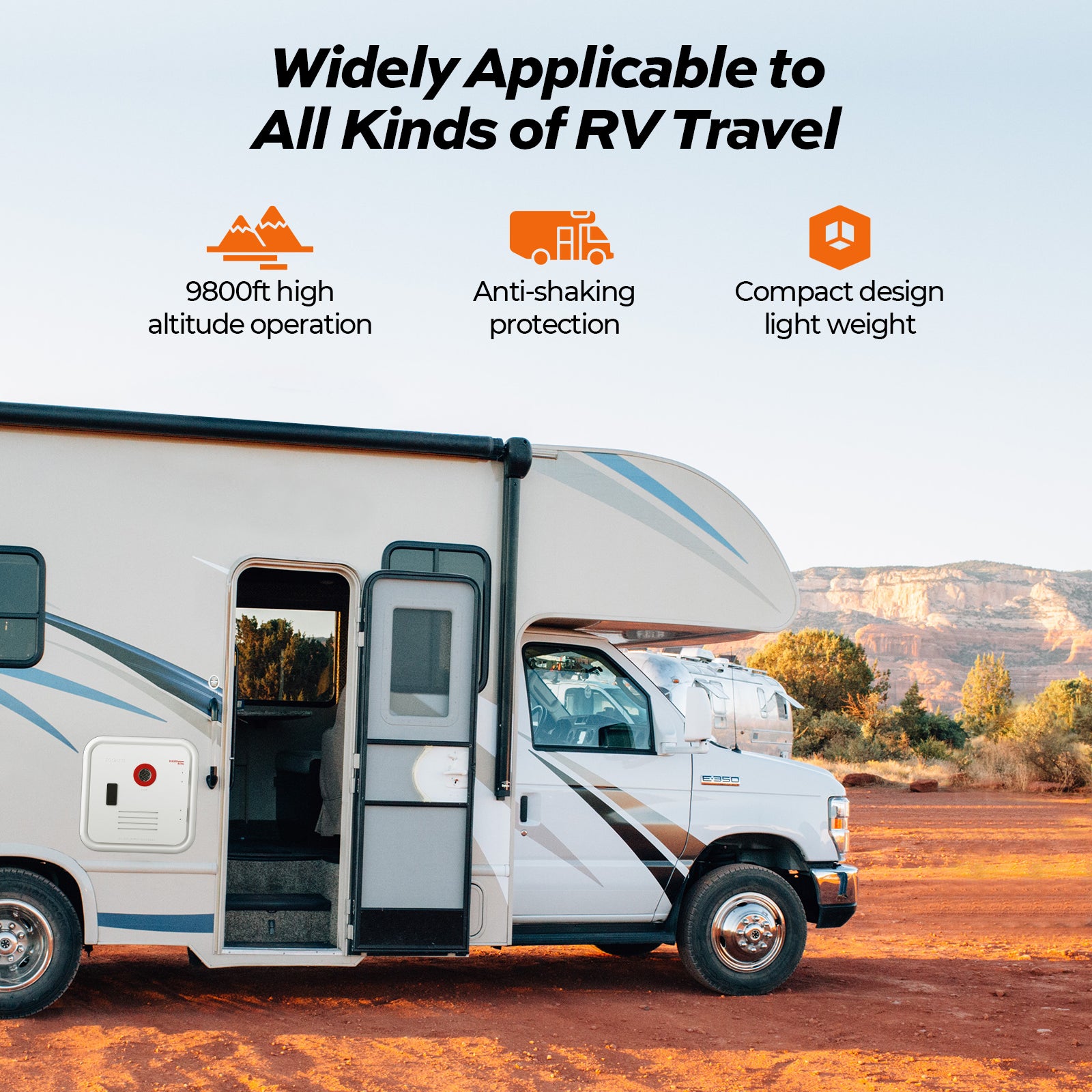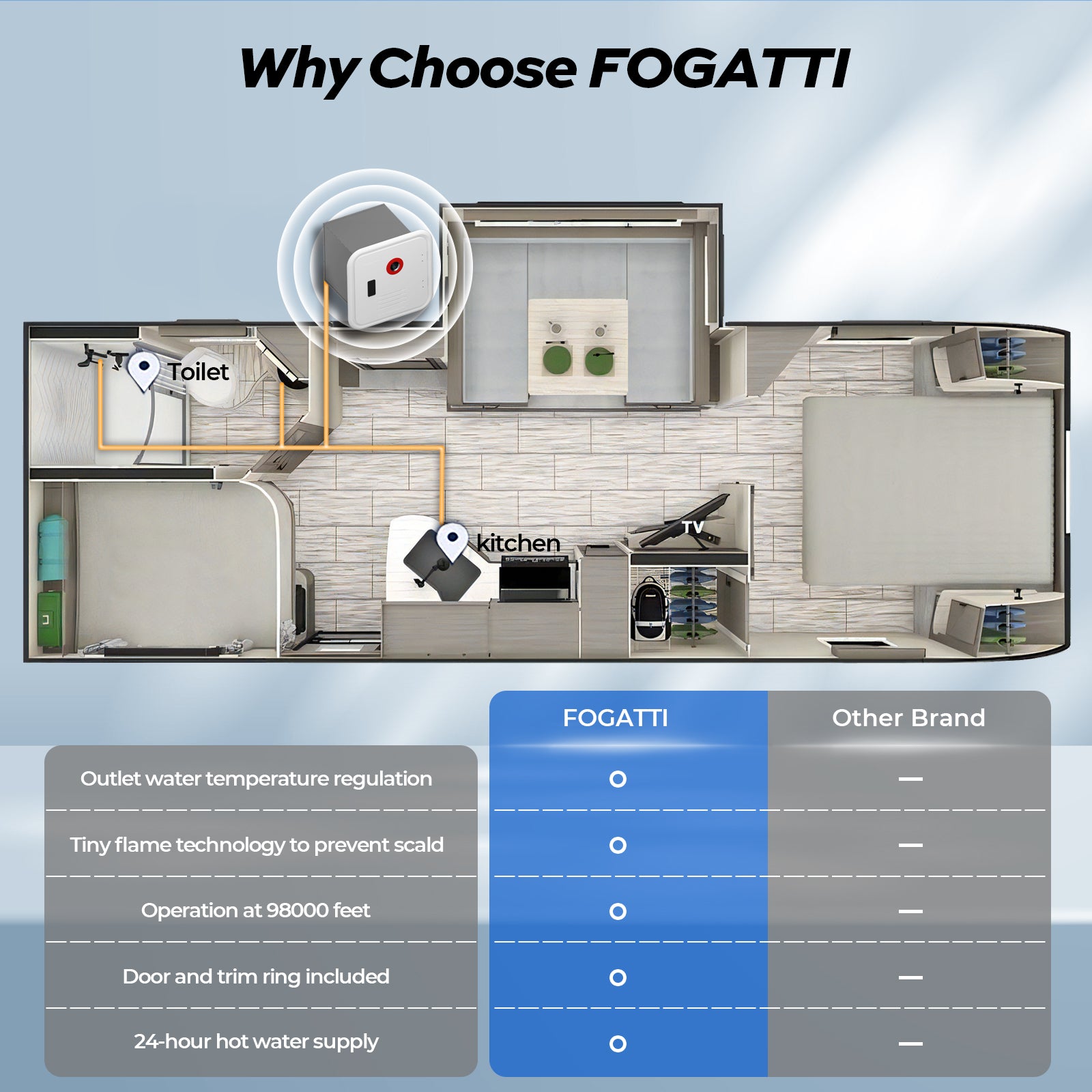 Fogatti InstaShower 8 Pro, 55,000 BTU RV Tankless Water Heater with Door
Instantaneous Water Heater
Continuous Hot Water Supply
Unlimited Hot Water Output
Thermostat to Stabilize Water Temp
Intelligent Value Display Controller
Winter Freeze Protection Feature
Heat Output: ‎55000 BTU
Max Water Flow: 2.9GPM
Temperature Range: 95°F-123°F
Water Temp Fluctuation: ±3℉
Electric Supply: DC 12V
Fuel Type: LP(Propane)
Comes With Door: 15" x 15"(Replace 4/6-gallon Tank)
Suitable For Any RV
Free Shipping, 3-5 Days FedEX / UPS Delivery from US Local Warehouse
Hurry up! Sale Will End on
30-Day Free Return & Replacement
30-Day Free Return & Refund
2-Year Warranty
Fogatti InstaShower 8 Pro, 55,000 BTU RV Tankless Water Heater: Solution for On-Demand Hot Water

Stable Water Temperature for Optimal Performance:
No more temperature fluctuations during low flow! Our additional mixing tank seamlessly blends hot and cold water, ensuring a consistent temperature output. Acting as a buffer, this tank optimizes the heater's efficiency, allowing for a steady flow of hot water. By maintaining a stable water temperature, you'll enjoy a reliable and comfortable shower experience while minimizing water wastage.

Unmatched Performance at High Altitudes:
Our RV tankless water heater caters to your adventurous spirit. With the high altitude suitability mode, the Fogatti water heater can efficiently operate even at elevations of up to 9800 feet, such as the high Denver plateau. Thanks to the staged combustion technology, you can navigate mountainous terrains worry-free. This advanced technology controls the flame intensity during the summer, preventing water from overheating and conserving your limited propane gas supply.

Versatile Compatibility for Easy Replacement:
Our Fogatti RV Water Heater is designed to seamlessly replace a variety of existing water heaters, making it highly versatile. With its 13 x 13 inches opening, it can replace popular 6-gallon tank water heaters from brands like Suburban & Atwood, as well as Girard & Furrion's tankless water heaters. If you previously used a 10-gallon tank water heater, simply retrofit your installation with an 18 x 18 door, and you're ready to enjoy the benefits of our tankless water heater system.

Endless Hot Water Supply:
Say goodbye to limited hot water supply! Our Fogatti RV Tankless Water Heater boasts an impressive power output of 55,000 BTUs, allowing it to produce a maximum of 2.9 gallons per minute (GPM) of hot water. Unlike traditional tank heaters that deplete their hot water supply in a matter of minutes, our tankless system offers over 20 minutes of continuous hot water.

Convenience Without Waiting:
Our RV tankless water heater is specifically designed for those who value convenience. With its on-demand functionality, you no longer have to wait for hot water while showering. This feature makes it perfect for multiple people in your travel trailer, eliminating the frustrating lag time experienced with traditional tanked water heaters. Powered by propane, you can rest assured that you won't run out of power during your caravan adventures.

Save Money and Hassle:
At Fogatti, we understand your needs and value your convenience. That's why our RV Tankless Water Heater comes equipped with a pressure relief valve, saving you the additional cost and hassle of purchasing and installing it separately. Additionally, our product includes a 15 x 15 door, a 17.64 x 17.64 decorative frame, and an intelligent remote controller that allows you to control the heater from up to 2 meters away.

Safety and Reliability at Its Core:
Ensuring your safety and providing peace of mind is our utmost priority. The Fogatti RV Tankless Water Heater features a built-in filter screen, effectively removing large particles of dust and sand from the water supply. With CSA certification and multiple safety features, such as a forced exhaust fan, stable combustion, automatic gas shut-off for accidental flame failure, and anti-freeze protection, you can trust in the reliability and longevity of our product.

Upgrade to the Fogatti RV Tankless Water Heater for a hassle-free and comfortable RV experience. Enjoy unlimited hot water, energy efficiency, and a reliable water temperature. Make every road trip memorable with Fogatti.
We Are #1 in RV Tankless
More and more RV owners and businesses are choosing Fogatti over any other tankless water heater brands. They choose us for our high-quality standards in RV water heating, our genuinely satisfying after-sales service,and because our RV manufacturing technology has reached its pinnacle.
Businesses that depend on Tankless Water Heater rely on Fogatti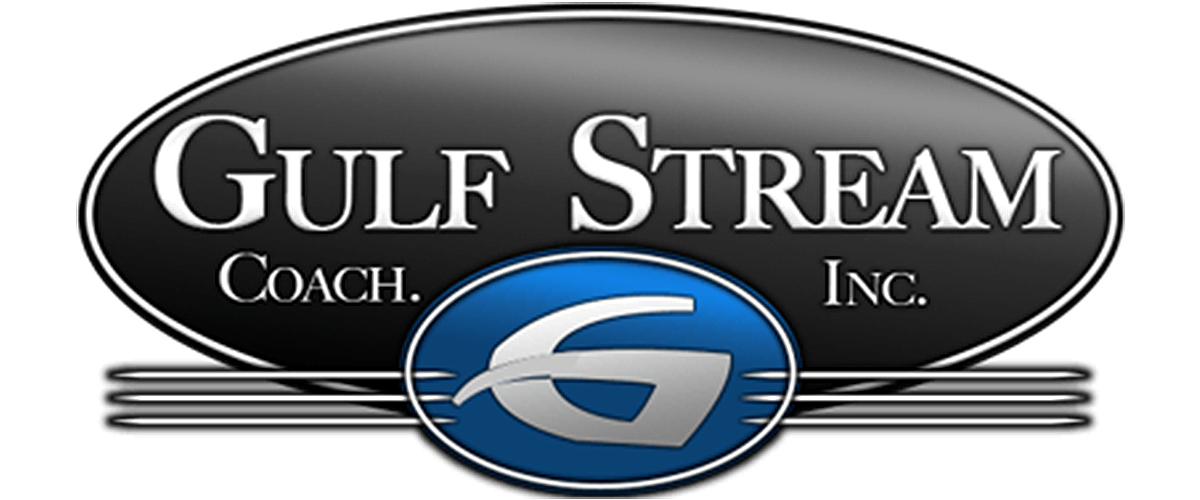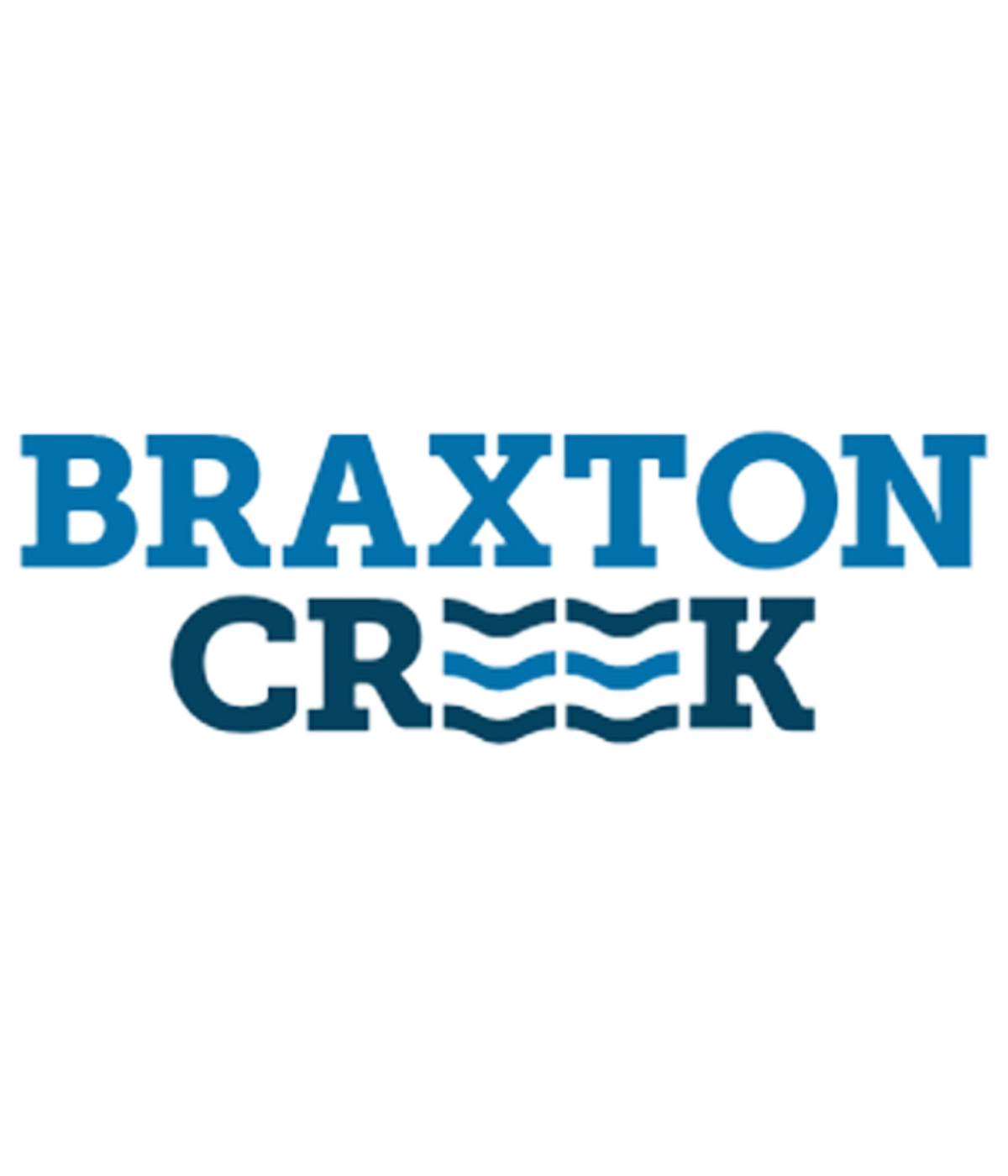 Which is the Best for You?
Product Dimension L*W*H(inch)
Does the RV water heater come with a door?

Our RV water heater comes with a 15*15 inches door. If you need 15*18 or 18*18 inches doors for installation requirements, you need to buy additional.
What is the difference between the Plus vs Pro?

Compare with the Plus one, the Pro one is our new product that added a mixing tank and a decorative frame.
What is the primary function of the mixing tank?

It is a critical component that not only stabilizes water temperature but also enhances safety, energy efficiency, and the overall functionality of the water heater for a better experience while traveling.
Can the RV hot water heater replace my old one?

Of course! Our RV water heaters are suitable for all RVs. In some cases, you may need our door frame accessories to ensure a proper fit, especially if your existing water heater has different opening sizes. Contact us for more details.
During winter or in cold weather, what considerations should be kept in mind when using this device?

When the ambient temperature drops below 32°F (0°C) and the machine is not connected to power or gas, it's necessary to drain the water from the water heater. This precaution prevents damage to the heat exchanger.
This product has no reviews yet.
You may also like
On sale
Save 7%
Save 5%
Save 15%
Save 11%